Donate to The DOV Project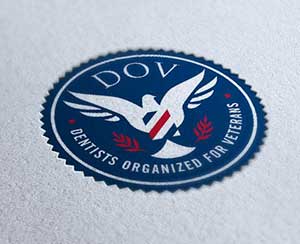 Dentists Organized For Veterans is raising money to provide free dental care to Veterans who do not qualify for the VA or who do not have the funds for dental treatment. We at the DOV Project can think of no greater gift than to give veterans healthy teeth and beautiful smiles so that they can join their friends and family around the dinner table and enjoy a heartwarming meal.

Please donate generously to the DOV Project this holiday season and help us provide free dental work to our most deserving veterans. Your contribution will make an impact, whether you donate $5 or $500. Every little bit helps.
Our dental office survives on the generosity of those who care deeply about the well being of our veterans and a monthly pledge can help make sure that we can continue to provide valuable, life changing dental treatment to our veterans? Please consider a monthly pledge to Dentists Organized For Veterans.
Thank you for making a difference in the well-being and dental health of our deserving veterans.
What Treatments Your Donations Provide for Our Vets
Your generous donation to Dentists Organized For Veterans helps ensure that we are able to offer high quality dental treatment at no cost to our veterans.
$100 - Free cleaning, exam and checkup
$115 - Simple one surface filling
$175 - Surgical tooth extraction
$850 - Porcelain Crown
$850 - Root canal
$1800 - Single tooth implant
$2500 - Full mouth dentures